Spring-ify your apartment

Spring is here!  Start the season off fresh and Spring-ify your apartment with these fun and easy tips!
1.  Brighten up your living room with colorful throw pillows.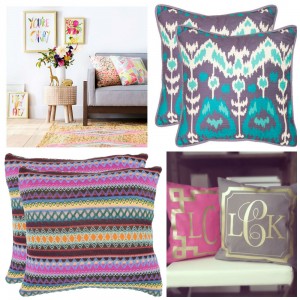 Top left:  Scattered Scallop Throw Pillow from Target , $20
Top right:  Manhattan Throw Pillow (set of 2) from Wayfair, $40
Bottom left:  Safavieh Mckenzie Burst Pillow (set of 2) from Wayfair, $35
Bottom right:  Monogram Throw Pillow Cover from Etsy, $30
2.  Refresh your closet.
Check out Buffalo Exchange in Center City (17th & Chestnut) where you can bring in your former favorites for trade or cash on the spot.
3.  Organize your work space.
It's amazing how productive you can be in a more organized and inspired work space.  Check out our Great Study Spaces Board on Pinterest for more ideas on how you can improve your work space.
4.  Bring life to your space with urban gardening.
For the non-gardener:  Go to Home Depot or Lowes and buy a house plant, perhaps a type that helps improve indoor air quality.
For the budding gardener:  Try a DIY kit such as this one for a hanging terrarium.
For green thumbs:  Add spice to your kitchen and grow a windowsill herb garden.
5.  Create new wall art.
Use your Instagram or Facebook photos to create cheap wall art.  This blogger ordered mini-prints of her Instagram photos and then hung them on the wall using nails, wire, and paper clips (photo of finished product above).