Apartment Living Tips for a College Student Budget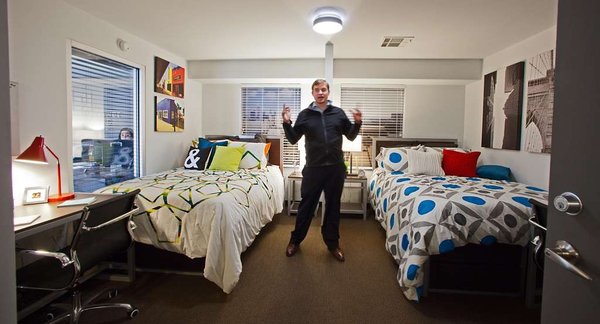 1.  Live off campus.
Off campus apartment living is a great way to save while in college.  The cheapest single dorm room at Temple University costs $950/month whereas an All-Inclusive single room at The Modules — TempleTown Realty's premier off campus apartments — is only $750/month.  And unlike a dorm, The Modules is close to campus while having all the benefits of a real apartment — a full living room, kitchen, roof deck, parking garage, and more.
2.  Be a savvy grocery shopper.
It's basic math. You can buy a bottled water at 7-Eleven for $1.50 or you can buy a whole case of bottled water at Fresh Grocer for less than $3.00. The savings from making food at home versus eating out are significant.  Some quick tips on grocery shopping – browse the weekly ads to see when your favorite items go on sale; when trying to decide between multiple brands of the same product, look at the price per unit on the price label to see which brand is a better buy; and buy frozen fruits and veggies  instead of fresh.  Fresh fruits and veggies are great but frozen is cheaper, lasts longer and doesn't go bad when you forget to eat them.  Let's put that full kitchen in your off campus apartment to use!
3.  Conserve energy.
Conserving energy is not only good for the environment, it's good for your wallet too.  You can reduce your utility bills by doing simple things like keeping your thermostat at a conservative temperature or by turning off and unplugging electronics when not in use. Read our tips for saving on your gas bill here.  Of course you could also opt for the All-Inclusive Package at The Modules so that your utilities are taken care of.
4.  DIY your decor.
Add a personal touch to make your apartment your home by creating your own apartment decor.  Pinterest and Buzzfeed have some great ideas on projects you can do on a budget and look great too!  Check out this list of 33 Gorgeous DIY Projects to Decorate Your Grown Up Apartment for some inspiration.
5.  Cut the commute.
So now that you've decided to live off campus, make sure that you pick an apartment in TempleTown so your commute to class is only 1 to 3 blocks long.  Walking or biking to class and your transportation costs are the calories you burn!  If you decide to live in a different Philly neighborhood, make sure you factor your commute into your budget.  Rent may be slightly cheaper in other areas such as South Philly but once you factor in the time, effort, and cost of SEPTA and/or having a car, is it still worth it?